Classic Motorbike Spares from KBH Motorcyles
KBH Motorcycles Ltd specializes in classic British motorcycles spares. Originally founded in 1989 …when we specialized in re-importing classic motorcycles from the USA, we suffered at the hands of the 90's recession. Sadly my co-founder of the business is no longer alive, so rejuvenating the old business is a fitting tribute. My background with classic bikes started in the mid 70's working for Barton Motors, the Triumph dealers in Bath. I eventually purchased their remaining New Old Stock of British spares and have since added to this with newly made quality spares at competitive prices which I sell via ebay and shortly via a web site. I have accounts with LF Harris, Velocette and Wassell – to name but 3. I am also sell classic british motorcycles as Totnes Classic Motorcycles Ltd. Please contact me on 07812 809029 or email kbhmotorcycles@yahoo.co.uk or visit my ebay shop.
---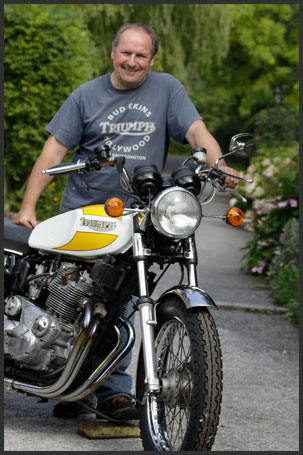 About Me
Hi – I'm Phil Humphrey, sole director of KBH Motorcycles Ltd, a company specialising in classic motorcycle spares, mainly Triumph, BSA Norton, and some Honda spares.
I am 58 and have been involved with motorcycles since 1974 when I started a Saturday job with Barton Motors, Bath. Here I learned the differences between pre unit and unit motorcycles, and slowly got to know part numbers off the top of my head – yes very sad, but true!! Since then I worked there until I managed to get a "secure", and better paid job in the Ministry of Defense. I worked in various roles, and finally ended up as Head of IT in Gibraltar in 2005. Whilst here I was hit off my Triumph by a Spanish drunk driver. This led to a return to Selly Oak hospital and the amputation of my left leg. Not to get me down, I got a Thunderbird converted to a Trike and rode off to the Sahara with some mates from the Trident and Rocket 3 Owners Club. Since then I have progressively got back on to two wheels, and now ride a Hinckley America, a T160 I've owned from new; a 1949 5T Speed Twin; and my X75 Hurricane, possibly the best british bike ever built, especially in terms of style.
I have co-owned KBH Motorcycles in the 1980-90's, but due to a move to Devon, and the ailing economy, KBH was wound up. Sadly my co-partner, Lawrence Knight passed away a few years ago, but I had always hoped to re-establish the business, which I have finally achieved. We are now located in a new large unit where you can collect spares and view motorcycles. The address is Unit 1 Whiteoaks Court David's Lane Filham, Ivybridge Devon PL21 0DW. (Please call me on 07812 809029 if you wish to visit as I am not always able to open the unit everyday or every hour).
I have spent a large part of my life with classic motorcycles, but also in the customer service world, so I hope I can provide you with a high level of service, and will strive to provide a competitively priced product, (whether a frame or a nut/bolt) to assist you with your classic bike spares needs. Thanks for reading this, and please contact me with your requirements or spares/bikes that you may wish to sell. My classic bike sales are listed in web page www.totnesclassicmotorcycles.co.uk
Regards
Phil Humphrey